The beauty of this month makes one stop for a moment and stand in awe of the light of the sun that makes the leaves on the trees glow and vibrate in an iridescent rhythm in the breeze. When in the fields I am surrounded by this phenomenon it takes my breath away!
It is my sincere wish that each and everyone can experience for a moment this miraculous transformation as the earth begins her long rest.
Here on the farm, we have been busy. We are continuing our harvest. In early September we had a frost and lost most of our above-ground crops. (We still have some kale and beet greens.) We are now beginning to store our carrot, parsnips, and beets in our root cellar. This activity is always exciting as we dream of a Thanksgiving feast where all our vegetables have come from our garden!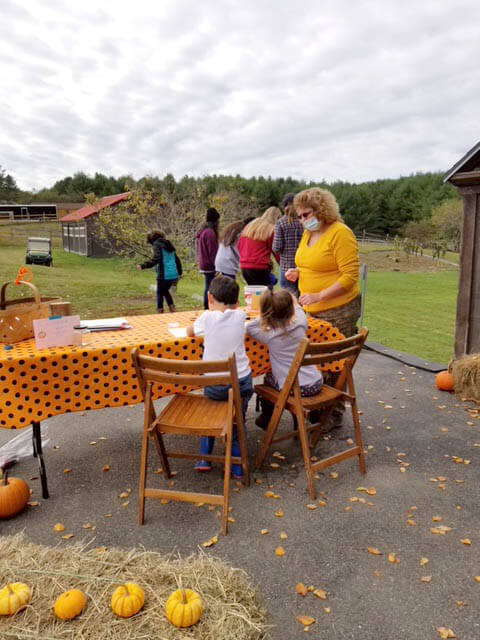 In early October in lieu of an Open House (which we had to cancel due to the CoronaVirus), we had a Saturday morning pumpkin give away. It was fun to see everyone run and play on a sunny warm day! Everyone left with a pumpkin or two and some different varieties of gourds from the gardens at The Farm. We had at least some connection with our community and everyone was very generous. We made a little over $700.00 which we promptly put to use in caring for our animals. Thank you, everyone! We appreciate your generosity and support. 
Next year's open house will be grand! This pandemic will be behind us and we will celebrate…so stay tuned!
Our friends from Skills, Inc., will be coming to visit The Farm again and we are so excited about their return. Of course, screening will be taking place and will occur at the Ervin Center in Waterville. Cleared participants will then come to The Farm. Here we will do some outside activities in a responsible manner. (Masks and social distancing will be employed.) It may be a bit awkward but it will be wonderful to see everyone again and the important thing is to keep everyone safe.
Our animals are all well and the goats (Shadow and Gus) and our horses are very happy to get a few apples to munch from our trees. Bodie and Diamond (our horses) are doing some trail riding and it's been so wonderful to see the fall colors from horseback…a fantastic view!
We hope to put some new footing in the paddocks at the barn to cut down on the mud that the horses stand in. Our neighbor Mike Rossignol will be bringing in his equipment and spreading the new material. This will be our big project for this month and we are looking forward to getting it done.
We are also looking at creating a round pen to train and exercise the horses. We are currently looking at the cost to see if this is possible for this fall.
I wish you warm apple pies right out of the oven and toasty woodstove fires to warm your toes, and the beauty of the season to lift your hearts!
I will touch base with you all next month.
Blessings and Peace,
Robin for the Ephphatha Community