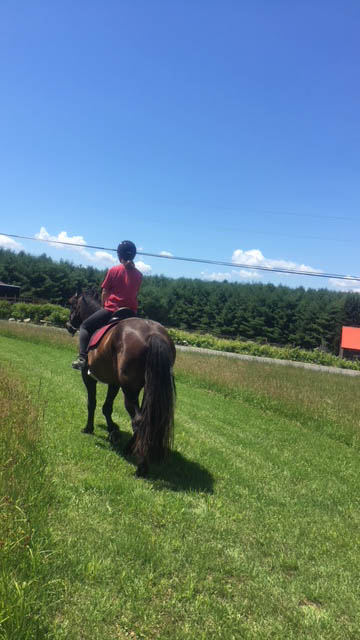 Can you believe it's already September? Our sunflowers are so big and tall! it's wonderful to see the birds and bees buzzing and flying about.
Despite the drought, we've been able to water our garden and it's been very bountiful. Zucchini and cucumbers are given to our area food bank and our neighbors. We have made many loaves of zucchini bread. (The best way to preserve zucchini is to make bread and then freeze it. Of course, you will have a tough time because it gets eaten up so quickly!) Pumpkins and squash are almost ready. Were trying to decide which pumpkin would make the best Jack O Lantern! The final decision has not been made yet!
It has been a unique summer due to the COVID virus. We had to suspend visits for our regular groups and participants. However, we have welcomed smaller groups of friends to tour the gardens and absorb the energy of The Farm. (They saw our goats and chickens and of course our Horses: Bodie and Diamond, who always are "The Stars of The Tours".)
We will not be able to have our Open House this year. With so many people in attendance, it would be quite difficult to keep everyone safe. We don't want to compromise anyone's safety. However, we will be scheduling small groups for a visit so we can keep in touch with our friends and neighbors.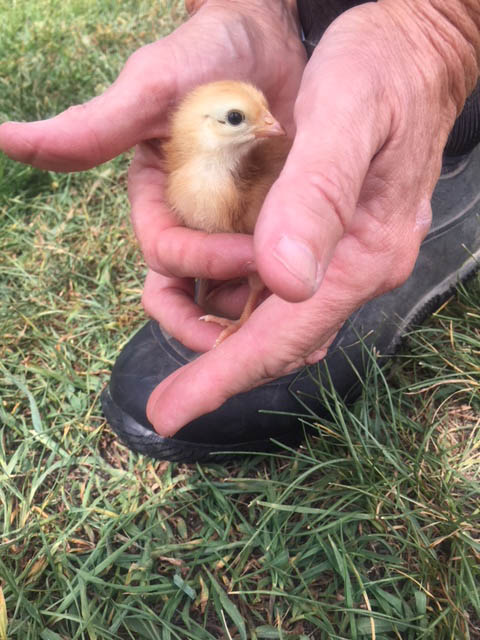 Because we have had to curtail our visitors, it's made for a quieter atmosphere. But life is always busy on The Farm! We've been excited about the arrival of twenty baby chicks and eight baby turkeys! Like all babies, they need extra TLC to survive and grow. I'm happy to report that everyone is doing well growing and peeping and running about in the grass. We do have a fox around so we have to be very vigilant to keep them safe. We have had to purchase a heavy-duty fence to keep the fox out! And Pip, our shepherd dog, will chase him up into the field to let him know that foxes are not welcome on The Farm!
During the summer on The Farm, we often prepare for the winter. Making sure we have enough hay is crucial for the health of our animals. Good quality hay is essential for the horses. It keeps them warm in the winter (the chewing action generates heat and is healthy for their gut) and it prevents colic which is a GI disturbance that can kill a horse. So hay keeps our animals healthy and happy.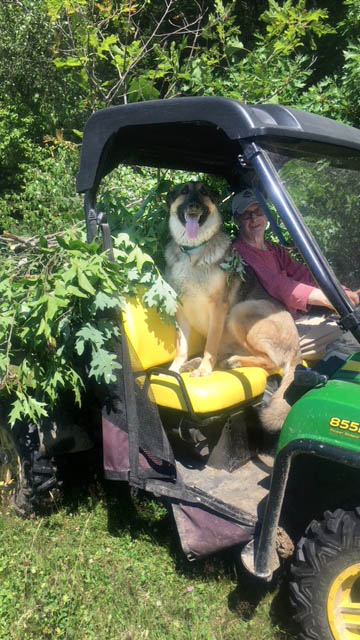 We bring in close to 500 bales of hay and we are only able to do that with the help of our friends and supporters. We are most grateful to them! Ken Q., one of Ephphatha's Board members, lends us his big truck and trailer. He always rounds up a couple of his friends to help lift the bales and arrange them in the barns as well. We store some of our hay off-site in another barn graciously donated by our friend, Norman Bernier. Our barns on The Farm simply can't hold that quantity of hay!
Once again we realize how much keeping this farm going is a communal effort. If we didn't have caring and compassionate people to help attain our vision of a Healing Farm we couldn't exist! Our goal is to continue to be able to bring joy and solace to all people in challenging situations.
We have also had time to think about the arena and round pen placements on the land. We've been working with one of our Board members who has construction experience. His name is Jim H. of Black Diamond Construction in Gardiner, Maine. When constructing the arena, we're taking drainage, position, and footing into consideration. Though costly (and because of COVID our donations have dropped) they are essential for our clients and friends to have improved access to the horses. The improved access will increase the opportunities for healing interactions between the individual participants and our healing horses in a safe, controlled, and accessible environment.
However, this is a major endeavor and funding will be an issue. Our fields are rolling (beautiful pastoral vistas) but very difficult to work with when a level piece of ground is needed…fill can be expensive! We are thinking of initiating a letter-writing campaign and hope to get funding for this project. Potentially we are thinking of establishing "A Go Fund Me Page". I will be requesting help from a computer guru friend for his thoughts on this. Maybe he would help set it up for me? In the meantime, there is a lot to learn in order to make proper decisions, so our Board of Directors and I will have many discussions in the future about the project.
So now the sun is peeking through the morning clouds. It will soon be time to give everyone lunch and bring the horses in from the upper pastures into their barn. (This helps them escape the flies). It's also time to stack some firewood, which makes me think of a cup of hot chocolate on a snowy afternoon. Ah!
All of us at Ephphatha Farm wish all of you health and happiness as we go into the golden autumn season. May your harvests of love and joy and especially peaceful moments be abundant!
Now that my leg (that I broke in late March) is healing and I'm walking about feeling much more energetic I will resume writing a monthly blog post with the news from The Farm. I'll be in touch with you all soon.
Enjoy September! I love this time of year.
Blessings,
Robin (for Ephphatha)